How BP, Oceaneering and Wood used Cathx Ocean's UHD imaging system to complete structure surveys six times faster than a traditional structure inspection and to change the survey process going forward with reduced offshore personnel, 3D models of the structures and pioneering visualisation analysis software

In collaboration with BP, Oceaneering and Wood, Cathx Ocean set out to prove that the Cathx UHD imaging system for structure surveys would provide better results than standard surveys. This resulted in a dramatic reduction in costs, offshore personnel and survey time by delivering ultra-high-definition imaging. This has changed the survey process going forward.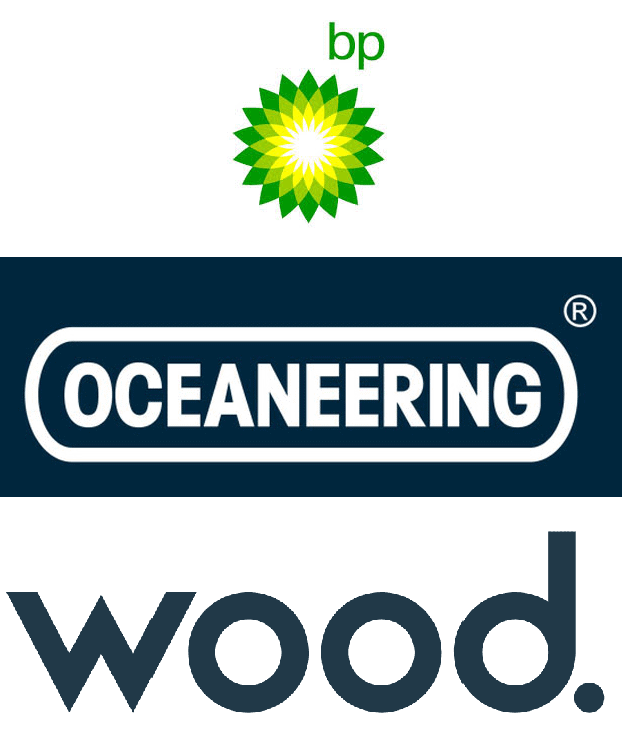 Traditional subsea structure surveys are slow and expensive. Cathx Ocean collaborated with BP, Oceaneering and Wood to prove that the Cathx UHD imaging system for structure surveys would provide better results than standard surveys. By providing higher quality UHD imaging, we aimed to reduce costs, offshore personnel and survey time.
BP is a multinational oil and gas business with headquarters in London, England. They are one of the largest energy companies in the world with operations in Europe, North and South America, Australasia, Asia and Africa. BP find, extract and supply oil, natural gas and petroleum.
Oceaneering is a subsea engineering and applied technology company operating in marine, space and other environments. Founded in 1964, they are the world's largest ROV operators. Based in Texas USA, Oceaneering provide remotely operated vehicles to the oil and gas industry, government agencies, and firms in the aerospace, marine engineering and construction industries.
Wood is a global leader in the delivery of project management, engineering, consulting and technical services to energy and built environment customers. Wood have operations in over 60 countries and employ approximately 55,000 people.
Cathx Fast Fly Stills Camera

Cathx Fast Video Pilot Camera

Cathx Pulsar I Strobe Lighting Systems

Cathx Multi-Camera Integration POD

Cathx Mission Planner Software

Cathx Mission Monitoring Software

Cathx Structural Inspection Survey Workflow.
Post Processing Data Configuration
SOLID Post Processing Image software

Cathx 3D Modelling

Cathx Visualisation Software Tool.
The Challenges
High Cost of Conventional Structure Surveys
Conventional subsea structure surveys are an expensive process. This is due to the amount of time spent carrying out the surveys and the amount of offshore personnel required.
Slow Visual Inspection Times
In traditional surveys, the ROV normally traverses around the structure and stops at a number of locations to zoom in and inspect in greater detail. This inspection process usually takes around 6 hours to complete a tree and up to 12 hours for a manifold.
Offshore Inspection Personnel
Visual inspection surveys require inspection personal offshore to identify potential anomalies, and then direct the ROV pilot to stop for a closer inspection of the structure. This puts substantial responsibility on the inspector, which leads to over inspection of the structure to ensure nothing is missed. This all comes at substantial cost to the surveying company.
Image Quality & Data Analysis
Due to subsea conditions, conventional subsea imaging systems did not previously provide sufficient quality images while the ROV was moving. Reduced image quality resulted in ROVs having to stop regularly to capture better inspection data. The client also required better methods to view and analyse the data collected.
The Solution
 The Cathx Fast Inspection Imaging System consists of the Cathx Fast Fly Camera, Cathx Fast Video pilot camera and Pulsar Strobe Lighting system. It was easily mounted onto the ROV. The Cathx Fast Fly camera captures clear, ultra-high-definition subsea images. This is achieved with synchronised strobe lighting, low imaging exposure and aperture setting. The Fast Video pilot camera is also synchronised with the strobe lighting to output 1080p/30fps video unaffected by the pulsing light for ROV navigation.
The Cathx Structural Inspection Survey Workflow reduces the survey time considerably. It also reduces the requirement for inspection personnel to go offshore, which greatly reduces costs on these types of missions.
Cathx Ocean created unique data deliverables for BP,  Oceaneering and Wood. Cathx 3D modelling was incorporated to provide a high-level view of the structure. The Cathx Visualisation Software Tool was developed, so users could review and inspect the 3D model with each point on the model automatically linked to the related still images at that location allowing for closer inspection.
The Results
Cathx Ocean completed structural surveys quicker than traditional methods and the quality of the data captured exceeded expectations.
UHD Image Quality
The Cathx Imaging system captures crisper sharper UHD images, when compared to standard subsea imagery.
Faster Survey Times
Due to the UHD quality of the images captured by the Cathx Imaging System, they can be enlarged to clearly view certain key locations. This negates the requirement to stop. Therefore, the process of flying around the structure that would normally take hours was completed in minutes. This is proven by comparing traditional inspection times verses Cathx fast digital inspection times on surveys. The adjacent figure highlights the 80% time saving experienced by BP, Oceaneering and Wood  since adopting the Cathx structural survey process.
Reduced Offshore Personnel
The inspection of the data captured could now be carried out onshore post mission. This reduced the requirement for inspection personal offshore.
Unique Data Deliverables and 3D Models
Cathx Ocean developed a better way to view and analyse the data collected by generating a 3D model. This was seen as the most interactive way to view the captured Image data. 3D models were created providing a high-level view of the structure. It delivered a view of the structure that asset inspectors have not previously experienced. The client considered this a great benefit for the analysis of the structure.
Cathx Visualisation Software Tool & Analysis
The 3D models did bring their advantages but the image quality and detail for the stills was missing in the model. Therefore, Cathx Ocean delivered a unique Visualisation Software Tool. This allowed the user to review and inspect the 3D model. Click and pick functionality were incorporated, where each point on the model automatically linked to the related still images at that location. The images in turn then appear on a popup window for closer inspection.
This type of subsea structure analysis was tested by our partners in the integrity group. It was assessed as a substantial improvement over the traditional methods.
Conclusions and Future Developments
The Cathx Structural Inspection Survey workflow has been defined. The survey starts with a fast data acquisition campaign. Once completed, the data is transferred onshore for post processing. 3D models and processed imagery are delivered through the Cathx Visualisation Software Tool for the Subsea Inspector to complete the inspection of the structure.
Cathx Ocean are constantly innovating with imminent improvements being made to the Visualisation Tool. This includes the ability to annotate and markup images and areas of the 3D models. Linkage to Coabis will be provided. The ability to select additional imaging enhancements to help show and identify anomalies automatically is in development.
Cathx Ocean are also developing a tool to help the offshore survey team during the data acquisition process. The Q-CAT Tool is for offshore data quality and coverage assurance. A subsea inspector is no longer required offshore to provide guidance to the ROV pilot to capture the most important parts of the structure. Instead, the Q-CAT tool gives them the confidence that the entire structure has been captured by the Cathx Imagery survey.
This trial with BP, Oceaneering and Wood focused on the verification of the methods to facilitate an alternative to visual inspection. This was achieved with great success in terms of imagery, time savings and cost reduction. The methods used in this trial are now being expanded to allow not only collection of imagery but also engineering level measurements and emission (leak) detection capabilities.
Multi camera and laser configurations aimed at FPSO hull, moorings, risers and other complex structures will deliver more accurate 3D data. The data can now be processed in much shorter time frames than conventional inspections.
A Baseline for Future Automation
Cathx Ocean's innovative techniques for data acquisition, visualisation and processing have been architected for automation using machine vision and machine learning. Currently, our data processing team process image surveys of structures and deliver them through our visualisation tool for manual review to meet today's manual processing requirements. This allows standardisation of the methods to process data, so that year-on-year results can be compared automatically. Cathx Ocean have been awarded four global patents for the methods and techniques to acquire, visualise and process these data sets using machine vision and learning. We are now working with our subcontractor and operator partners to deliver these solutions across a range of applications.