SUBSEA IMAGING & LASER SYSTEM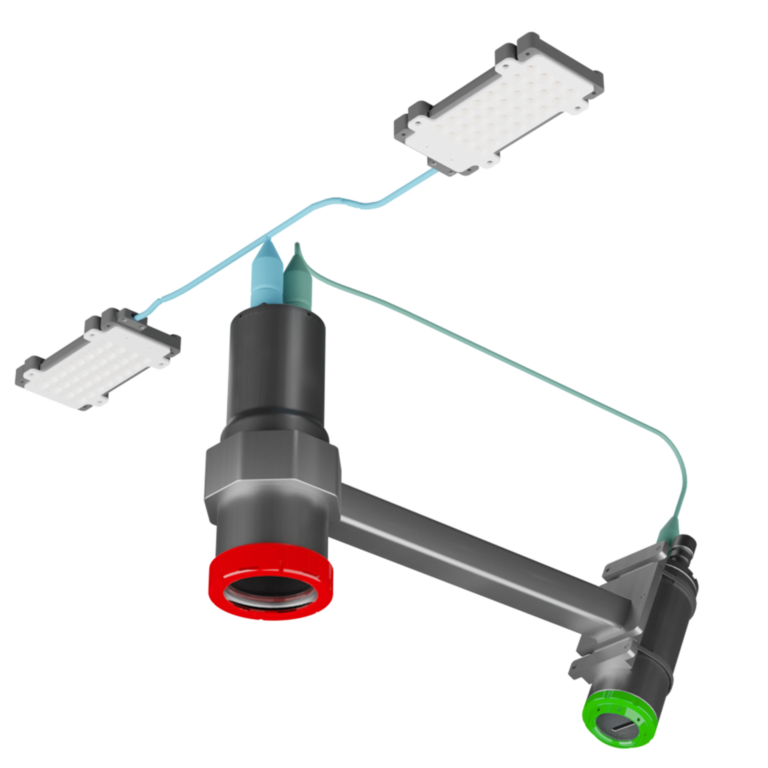 The CATHX TRACKER is our most compact imaging and measurement system that captures high-definition imagery and millimetre accurate measurement information at speeds of up to 5 knots.
Combining CATHX OCEAN's patented imaging camera, a powerful 3D laser measurement sensor and efficient LED strobe lights, the TRACKER delivers comprehensive imaging and measurement data to create accurate 3D visualisations of subsea assets.
CONTACT US
Single Sensor Imaging and Measurement System Delivering Unsurpassed Visual Data
Single-swath system for small ROVs outputting incomparable high-resolution still imaging and laser profiling.
SUPERB IMAGING & MEASUREMENT
Still imaging – HD stills resolution 2048 x 1152 up to 30 fps.
Laser Imaging – 30 lines per second from the green penetrating laser. Dense 3D laser point cloud data synchronised with stills in time and space.
Sequential Imaging – 1 to 5 light pulses per millisecond, interleaved with laser and to allow for high-speed acquisition.
Operational heights of up to 7 meters (depending on water conditions)
1:1 swath to height ratio, single-swath system, with swaths of up to 7 meters possible
High-resolution still enables millimetre precision. The system operates at distances up to 7 metres and speeds of up to 5 knots.
Time-stamped, geotagged, and fother sensor information is stored in the image EXIF, enabling year-on-year change analysis.
CATHX FDI® data capture methodology enables non-stop, high-speed operations, delivering time and cost efficiencies.
SUPERB VISUAL DATA QUALITY
High Definition Images with no motion blur and reduction in the effects of marine snow.
Product Features
Ideal for small vehicle survey operators
Ease of integration on fast-moving towed vehicles
Collects both image and measurement data sequentially
Captures high-quality images where motion blur is eradicated.
Reduces the effect of marine snow/debris in the water column.
Improves event classification and counting through the high pixel resolution
Collects millimetre accurate 3D data
The combination of image and measurement data provides superior 3D data deliverables, surpassing those of photogrammetry
Spatially co-registered, geo-tagged, timestamp and other survey information are stored with the data to support year-on-year reviews.
Access to industry-leading subsea imaging and measurement systems at an affordable cost.
DOWNLOAD PRODUCT TECHNICAL DATASHEET
Click on the button below to download a full technical product specification for the CATHX TRACKER.
DOWNLOAD DATASHEET
CONTACT US
Fill out the form below to arrange a demonstration of how the TRACKER can help you acquire the information you need – faster, safer and for less cost.