AUTONOMOUS UNDERWATER VEHICLE IMAGING & LASER SYSTEM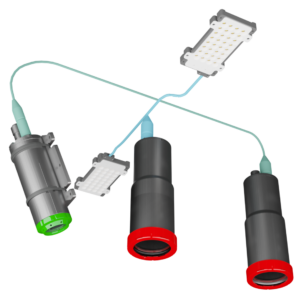 The HUNTER II is CATHX's fastest high-resolution imaging and measurement system.
Combining CATHX's field-proven 4k colour camera, efficient strobe lights, and a new powerful laser imaging system. CATHX's ultra-bright strobe LED panels provide HUNTER II with unparalleled image quality for stills data. The increased laser power enables improved accuracy at ranges of up to 7m, allowing for a wider swath path, resulting in more area surveyed. The enhanced laser imaging hardware provides more reliable measurement data while maintaining CATHX's proven millimetre accuracy.
HUNTER II offers data connectivity to CATHX's 2D and 3D visualisation and post-processing software. The rich imaging and measurement information and data connectivity offered by the HUNTER II provides features such as automated pipe-tracking and freespan detection.
CONTACT US
Unique Technical Features Deliver Unparalleled Efficiencies
Fully integrated, single-swath system, delivering high-resolution still imaging and laser profiling.
PRECISION INTEGRATED IMAGING & MEASUREMENT
Still imaging – UHD stills resolution of 4096 x 2304 pixels up to 7 fps. HD stills resolution of 2048 x 1152 pixels up to 30 fps.
Laser imaging – Laser resolution of up to 120,000 points and 60 lines per second from green penetrating laser. Dense 3D laser point cloud data synchronised with stills in time and space.
Sequential imaging – 1 to 5 light pulses per millisecond, interleaved with laser, allow for high-speed AUV operation.
EXTENSIVE OPERATIONAL RANGE
Operational heights of up to 7 metres (depending on system configuration and water conditions).
1:1 swath to height ratio, single-swath system, with swaths of up to 7 metres possible
High-resolution still and laser imaging enables millimetre precision. The system operates at distances up to 7 metres and speeds of up to 5 knots.
A fully calibrated system, including post-acquisition recalibration capability.
Time-stamped, co-registered, fully integrated still, laser metadata, output in EXIF format, improves post-process workflow.

Two-pronged data collection and interrogation with other sensors produce further workflow efficiencies.
High visibility and extended range enable non-stop, high-speed operations, delivering time and cost efficiencies.
REAL-TIME QUALITY ASSURANCE
Real-time still and laser data feeds allow instantaneous quality assurance and post-acquisition calibration, ensuring results are not compromised by misalignment or changes in environmental conditions
Compatibility with clients' existing workflows and with Cathx Ocean eventing, positioning, and post processing software, optimises efficiencies.
Product Features
Full imaging and laser measurement system designed for AUV operations
Host vehicle can automatically adjust data collection profiles
Collects both image and measurement data sequentially
Captures high-quality images where motion blur is eradicated.
Reduces the effect of marine snow/debris in the water column.
Improves event classification and counting through the high pixel resolution.
Collects millimetre accurate 3D data.
Dual data deliverables are available as an alternative to process-intensive photogrammetry.
Spatially co-registered, geo-tagged, timestamp and other survey information are stored with the data to support year-on-year reviews.
Access to industry-leading subsea imaging and measurement systems at an affordable cost.
Access to automated features such as Pipeline Tracking and Free span Detection.
DOWNLOAD PRODUCT TECHNICAL DATASHEET
Click on the button below to download a full technical product specification for the CATHX HUNTER II.
DOWNLOAD DATASHEET
CONTACT US
Fill out the form below to arrange a demonstration of how the HUNTER II can help you acquire the information you need – faster, safer and for less cost.