Have you ever wondered is there a way to significantly reduce the amount of vessel time required to conduct inspections on seabed assets? Could you significantly reduce both the risk and your carbon footprint in the course of inspecting subsea elements? Is there a service solution that delivers superior image and measurement data deliverables that enable you to make informed decisions in the maintenance of your seabed assets? Is there a service that can do all this that looks towards fully automating the inspection of seabed resources?
CATHX Fast Digital Inspection (FDI®) for Seabed can be deployed across a wide range of ROV's, AUV's and ROTV's to conduct a wide range optical surveys on man-made assets, organic life, or area surveys of the seafloor.

CATHX Fast Digital Inspection (Cathx FDI®) is a complete suite of subsea optical survey solutions enabling superior surveys of underwater assets such as Oil & Gas pipelines, Subsea Cable Routes, Offshore Wind Energy, Marine Environments, Deep Sea Mining, Defence, Law Enforcement and Fisheries industries.
Cathx Ocean developed FDI® technology to substantially improve subsea optical imaging for ROV and AUV systems and our solutions are available to ROV & AUV operators, manufacturers and seabed asset owners. Our proprietary and patented technologies allow imaging of large areas at high speed, radically reducing the vessel time required to perform surveys in a range of applications by over 80%.
KEY FEATURES & BENEFITS OF CATHX FDI® SEABED

SURVEYS CONDUCTED UP TO 6 TIMES FASTER THAN TRADITIONAL SUBSEA SURVEYS
Case Studies show that the speed at which CATHX FDI® Seabed systems can conduct optical surveys significantly reduces the amount of vessel time required from 36 days to 6 days.

SUPERB
QUALITY 
IMAGE & MEASUREMENT DATA 
Cathx Ocean's FDI® Seabed Visual Perception hardware allows for the survey vehicle to capture sharp imagery with spatially co-registered measurement data whilst travelling at speeds of 5kn and larger areas than traditional video techniques.

LEADING TO MASSIVE COST SAVINGS
With the running of ships costing up to €100,000 per day, the reduced time at sea also means that CATHX FDI® Seabed delivers substantial cost savings to your business as well substantially reducing any environmental impact. Due to the reduced time required to conduct subsea surveys, CATHX FDI® Seabed requires less people and therefore reduces the risk for each survey.

SUBSTANTIAL C02 SAVING FROM REDUCED VESSEL TIMES
The speed at CATHX FDI® Seabed captures data reduces the amount of time required at sea. This leads to over 80% reduction in the amount of carbon expelled during the course of a survey expedition.

DEVELOPED FOR ALL ROV'S & AUV'S
CATHX FDI® Seabed hardware technology is designed to be universally compatible with all ROV's & AUV's on the market.

WORLD CLASS DATA DELIVERABLES
CATHX FDI® Seabed Visual Perception Systems not only deliver Ultra High Definition 2D Imagery, but also 3D Point cloud laser data that can be easily inspected using CX Observer and other Third Party Integrity Management Tools.

DESIGNED FOR AUTOMATION
Cathx Ocean has developed our systems to allow for our hardware be used on un-crewed vessels and vehicles. Our automated eventing features are designed from the ground up with Cathx data in mind

CATHX CUSTOMER EXPERIENCE
Cathx Ocean swiftly responds in real-time to our customers ever-changing and demanding requirements. We have a wealth of experience and expertise garnered through our exceptional Engineers and Operations Team. Combined with the finest data and top quality support service we provide our customers with a world-class Cathx Customer Experience.
APPLICATIONS FOR CATHX FDI® SEABED
Cathx Ocean's range of systems have been successfully deployed across a range of sectors including the following:
OIL & GAS
CATHX FDI® Seabed is a value-enhanced imaging and inspection solution to assist you in the carrying out of Pre-lay surveys for new pipelines, enabling you quickly and safely to execute high-quality inspections of your existing pipeline assets.
SUBSEA CABLES
CATHX FDI® Seabed reduces the time required to conduct optical surveys of subsea cable runs. The superior Image Data provides the ability to see the most minute details and defects.
OFFSHORE WIND
CATHX FDI® Seabed helps you discover if a particular area of seabed will accommodate your assets, speed up construction phases and the effects to marine life in the area. The costs of surveying in-situ windfarms can be reduced using our FDI® approach, while also acquiring additional insights via the high quality data being acquired.
MARINE ENVIRONMENT
CATHX FDI® Seabed's superior imagery data can help identify and count marine life in the survey area and be able to compare data survey on survey.
SUBSEA MINING
CATHX FDI® Seabed can help identify where valuable mineral nodules are located and can help you monitor the environmental impact the mining has on the area and the return of marine life after mining has completed.
DEFENCE
Our CATHX FDI® Seabed visual perception system has the ability to identify and recognise dangerous munitions that can also survey and assist with mine countermeasures.
LAW ENFORCEMENT
The advanced imaging and inspection capabilities available with CATHX FDI® Seabed is a supreme solution for Law Enforcement agencies in the subsea search for smuggled contraband.
FISHERIES
With superb high-quality and sharp image data provided by CATHX FDI® Seabed, is an invaluable solution when it comes to conducting seabed surveys, identifying species of fish in locations, and when it comes to monitoring of marine life.
CATHX OCEAN FDI® services are aimed at single work scopes or long-term frame agreements. We can tailor solutions for imminent jobs while also partnering with our clients over multiyear contracts as we deliver automation solutions in stages.

This end-to-end single project offering allows you to purchase and configures equipment based on your specific survey requirements. From the initial planning session through to the reporting on the Data Inspection, members of the Cathx Ocean Operations team are available to support and guide clients to obtain the clearest visualisation of their seabed resources.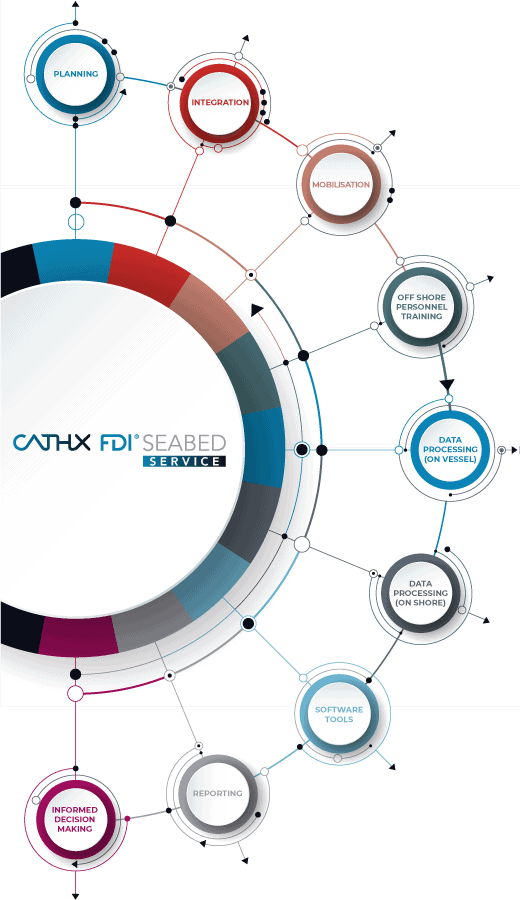 Cathx Ocean's aim is to provide their clients with real value when employing CATHX FDI® SEABED SOLUTION. This multi-year licenced solution is offered when buyers are considering servicing multiple clients in a specific region, where you get the full benefits of our CATHX FDI® Seabed Service but over a 1 – 5 year duration.
This offers greater flexibility to take advantage of the latest hardware and software releases as they come to market, as well as access to spares, support, with flexible rates for annual and multi-year licenses. Additionally, you will be able to compare your data year on year, or mission by mission.
Another massive benefit of choosing CATHX FDI® Seabed Solution allows the buyer to diffuse the cost of the service in their Operations Budgets rather than through the traditional Capital Budgets, spreading the cost over a period of time, making Cathx FDI® Seabed a more cost beneficial proposition to Cathx Ocean clients.
WHICH  CATHX FDI® SEABED SYSTEM IS THE SOLUTION FOR YOU?
Cathx Ocean's patented visual perception systems have been designed to make subsea surveying a more expedient, easier and safer proposition for agencies with vested interests in subsea assets. Our objective is to ensure that you are able to clearly visualise your assets so that you can assess, evaluate and plan maintenance missions whilst saving you time, money and resources.
We have a range of system configurations that can be integrated with different sized ROV and AUV survey vessels. Our experienced Engineering and Operations teams will work closely with you to clarify your survey objectives, define your technical requirements. and then configure, build and provide you with the optimum perception system solution.
HOW YOUR CATHX FDI® SEABED SYSTEM ACQUIRES DATA
Cathx FDI® Seabed's proven imaging and processing capabilities for underwater vehicles are based on strobed multi-source image acquisition.
Accomplished through precision control of lighting, laser and imaging sensor acquisition parameters, multiple image data types can be acquired in a single pass.
This approach allows for the fast generation of unique data outputs during or after mission, facilitating providing our clients with a greater understanding of the region of interest. Cathx FDI® Seabed systems are available in a number of configurations for downward operations in subsea vehicles ranging from under 1000m to 6000m water depth.
HOW THE CATHX FDI® SEABED DATA IS PROCESSED
After the data is acquired, the raw data is taken back to Cathx Ocean for processing where our dedicated Operations team creates a complete project pack that contains a full complement of valuable Data Deliverables.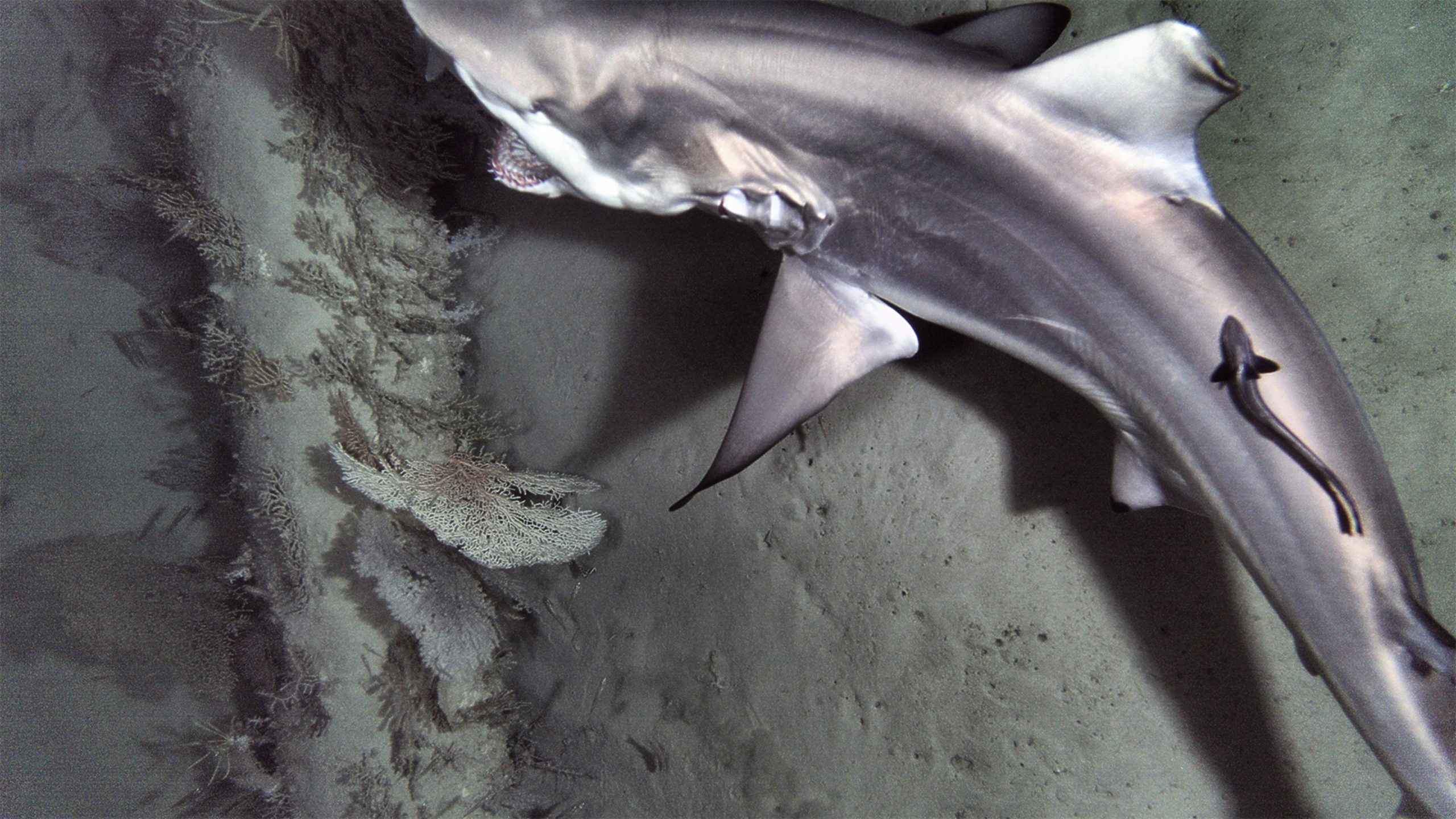 The unique data your  CATHX FDI® Seabed system acquires allows the reconstruction of 2D and 3D data products that do not require feature matching or photogrammetry.
The Cathx FDI® Seabed data collection includes:
2D Ortho images
World Files
Colour laser point cloud*
Ortho-photos and mosaics*
3D orthorectified mesh outputs*
*    These data objects are based on corrected navigation data which provides registration between colour image pixels, and 3D laser data sets to allow reconstruction of underwater scenes in 2D and 3D.
Once the Project Pack is compiled, Cathx Ocean send the Pack to your Inspection engineers to load into any Integrity Management Application for inspection.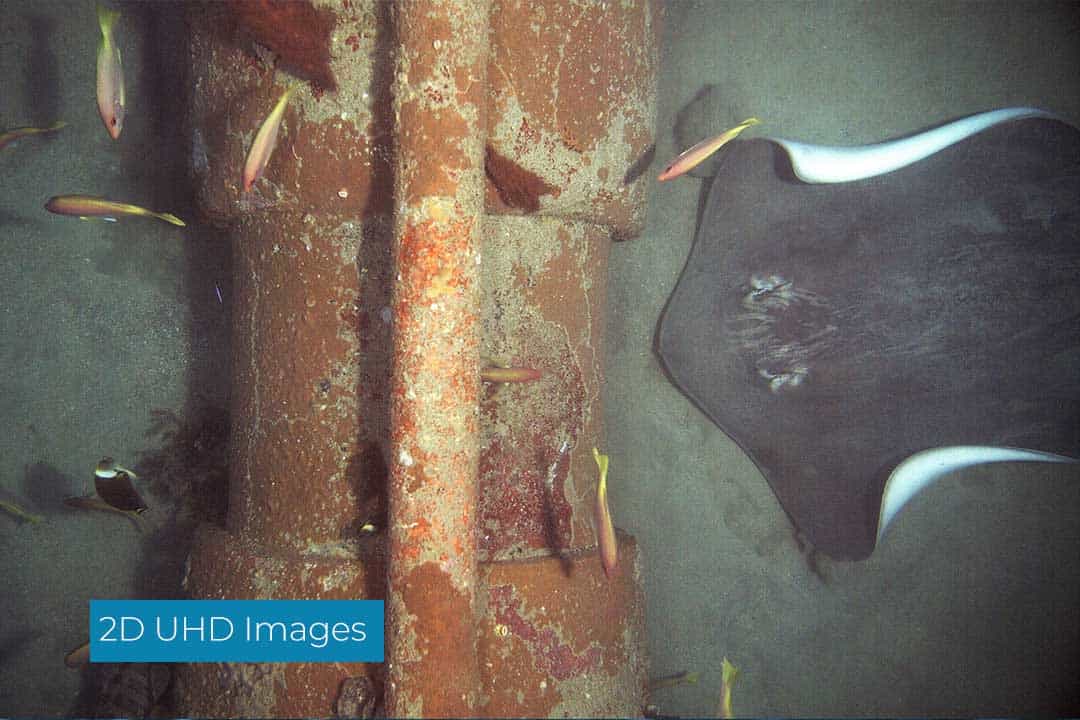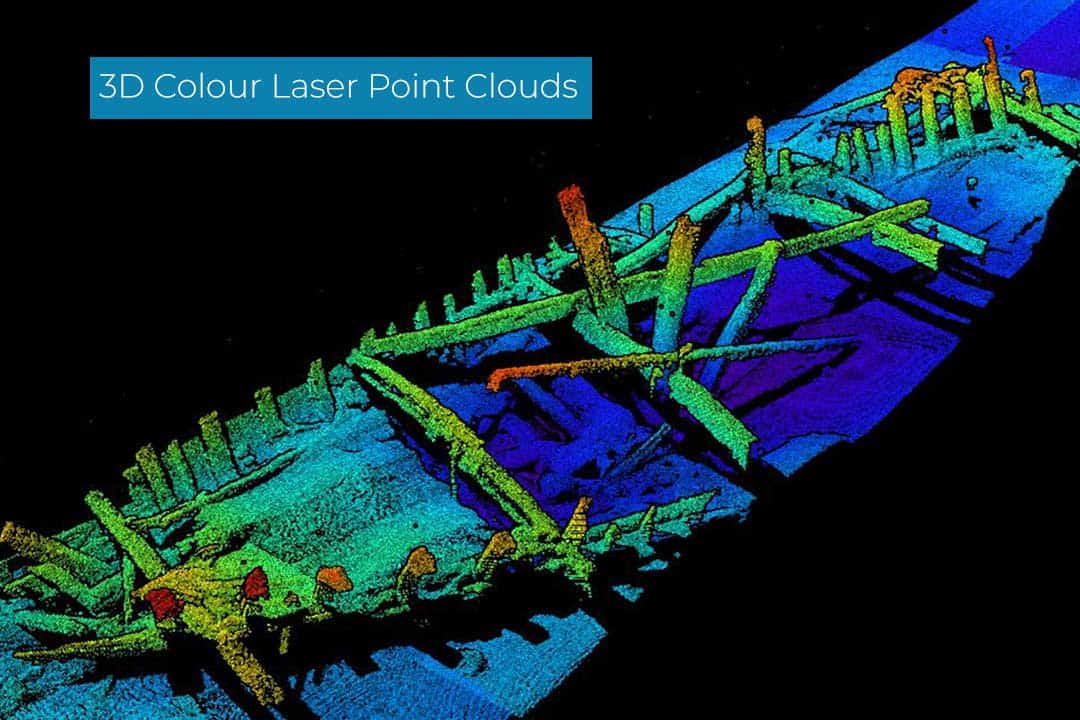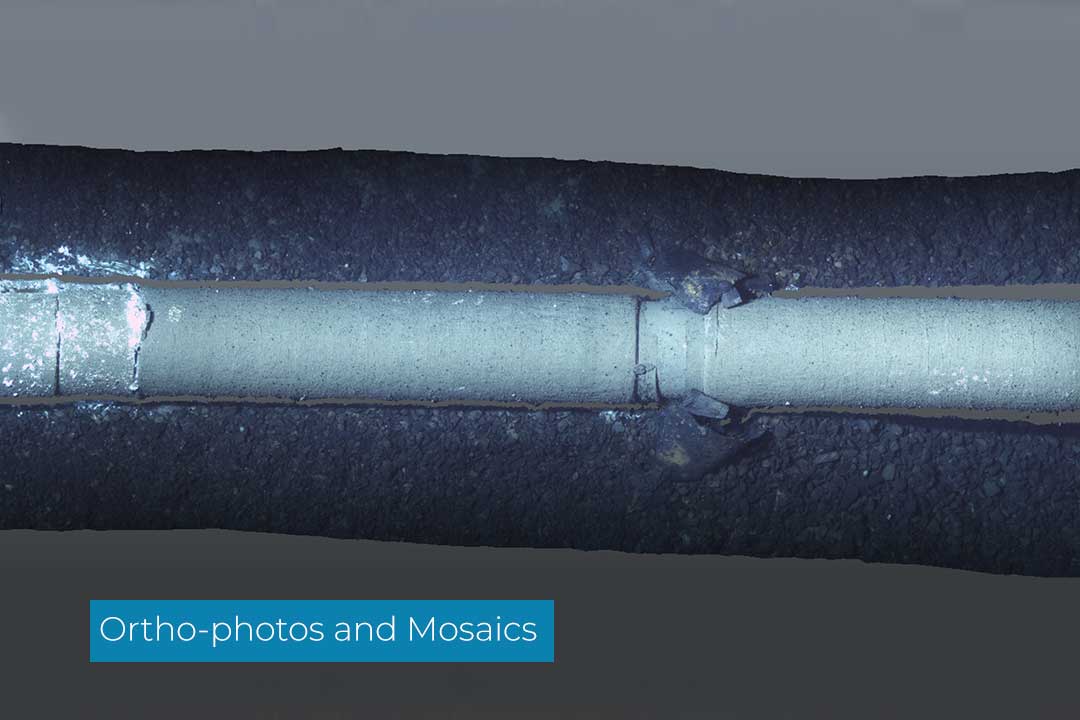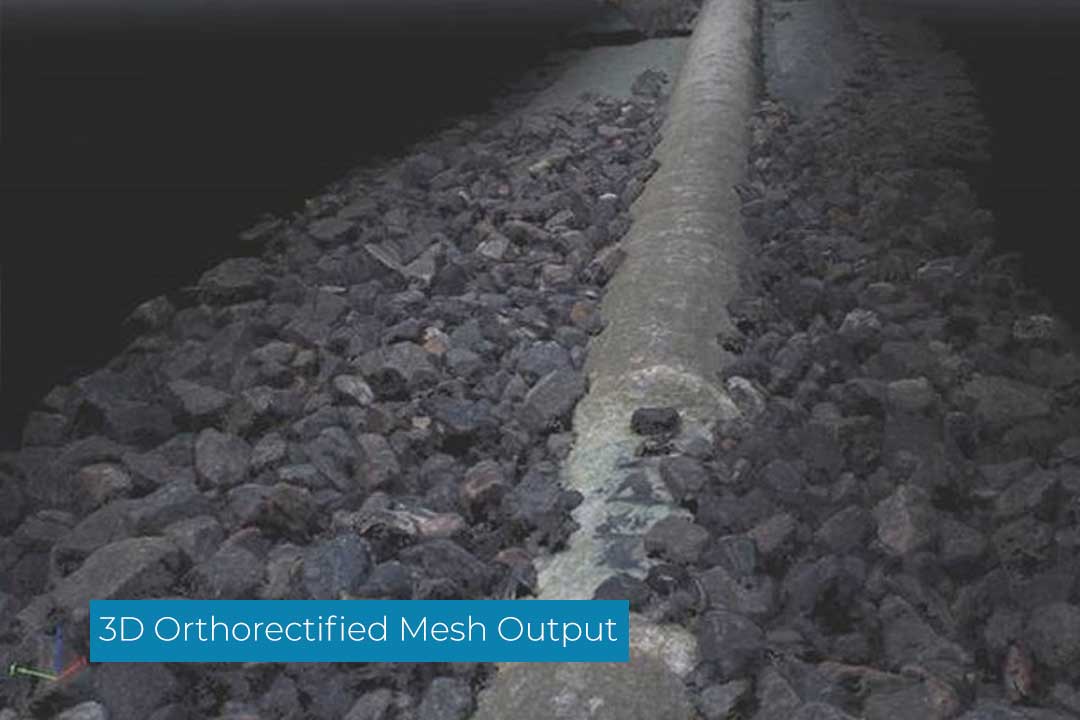 HOW TO INSPECT YOUR CATHX FDI® SEABED DATA
As data is acquired in under 30% of the time required for conventional inspections in the offshore phase, current  CATHX FDI® Seabed inspections are not performed on the vessel as this would slow down the acquisition process. Instead, Quality Control is performed at acquisition and data is imported to Integrity Management Software such as Eiva, Navimodel, Qps, Ginsy, and Fugro Starfix  for inspection onshore.
This considered approach, allows your inspection engineers to review data in a physical 3D environment and to manually tag and verify observations for import to third party software tools for integrity management and engineering work.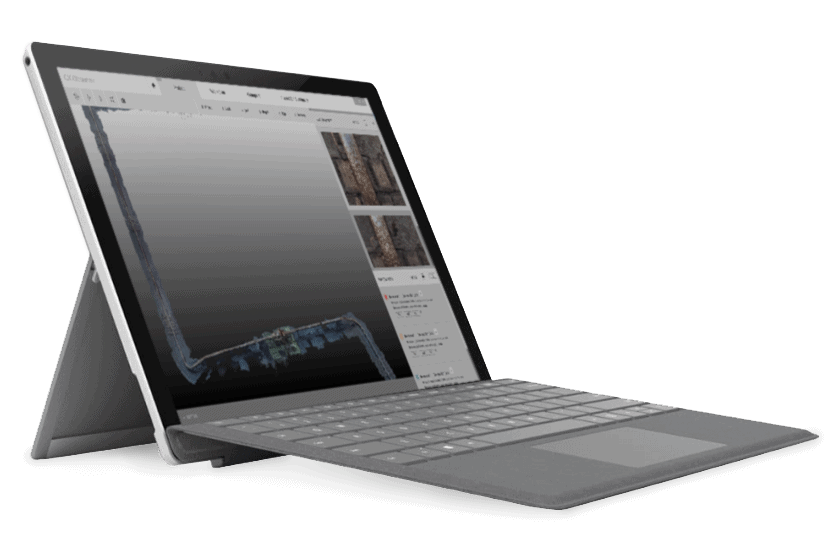 DO YOU WANT TO FIND OUT MORE ABOUT CATHX FDI® SEABED?